Throwback inspiration dominates this week...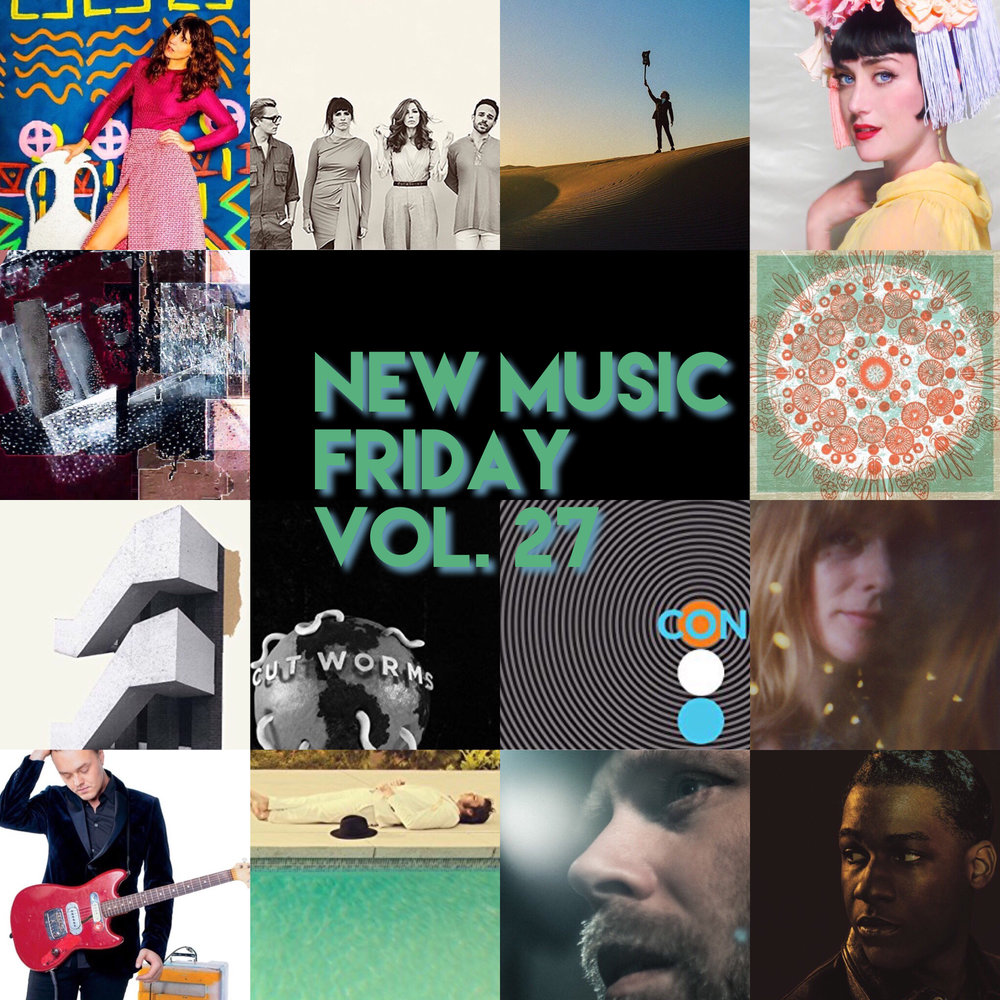 Gaz Coombes - World's Strongest Man
Coombes was front-man for the now-defunct Brit-pop band Supergrass. This is his third solo album since 2012, and it's fantastic. I hear occasional bits of Radiohead and even a few moments that remind me of Jack White.
---
Eleanor Friedberger - Rebound
This is Friedberger's fourth solo album after having been one half of indie rock group The Fiery Furnaces. She explains that the sound of this record was informed by a throwback '80s goth disco in Greece called Rebound that's only open on Saturdays after 3 AM. Curious?
---
Horse Feathers - Appreciation
Horse Feathers is and indie folk band I've been a fan of for several years. They make gorgeous music with beautiful arrangements. This new album appears to be no exception.
---
Yonatan Gat - Universalists
Yonatan Gat is an Israeli artist who has been getting all the shout-outs for his guitar playing. The tracks available before release have a wide variety of influences and sounds: Balinese gamelan on one, Algonquin Native American group Eastern Medicine Singers on another, and it opens with a clip captured by Alan Lomax of an Italo-Spanish choir from Genoa in the '50s that Gat then splices and butchers into rhythmic bits of colorful sounds. Gat has said that his goal on this record was to capture the live, fiery energy of his live shows. This is unique music, sometimes noisy, but always impassioned.
---
Leon Bridges - Good Thing
Leon Bridges skyrocketed onto the scene in 2015 with a reverent approach to a classic soul sound on his debut album. He continues the reverence with this, his sophomore album. If you like the smooth soul of the '60s, you'll love this guy.
---
Kenny Barron - Concentric Circles
The 75-year-old Kenny Barron is one of my favorite jazz pianists. He's had such a storied career, and he plays with elegant virtuosity. His latest outing is first-rate straight ahead jazz, and I would expect nothing less. Joining Barron in this quintet is a tremendous trumpet player named Michael Rodriguez who has just been appointed to the faculty of the new jazz program at the San Francisco Conservatory of Music. 
---
Hailey Tuck - Junk
Her website says:
Hailey Tuck's story sounds like a far-fetched film script. A teenager from Texas with a bob borrowed from Louise Brooks and a suitcase stuffed full of vintage dresses takes off for Paris with her college fund and a dream of becoming a jazz singer.
An Italian countess becomes her benefactor, she wows the crowds in crazy cabaret clubs and finds herself underground jazz venues before her music wins her fans around the world and a legendary producer invites her to L.A. to record her debut album.
Produced by the great Larry Klein, this record sounds exactly like that description might lead you to believe. Young artists like Tuck who are faithfully conjuring their influences from bygone eras are entertaining to me. I'm very interested to hear this whole thing.
---
Venetian Snares and Daniel Lanois - Venetian Snares x Daniel Lanois
Whoa.
This is wild. An album of electronic music created by two insanely talented and smart producers who decided to "jam" in the studio and let their two ferociously different styles collide into a mess of sound. I think it's often frenetic, disjointed and absolutely riveting. I'm not sure when exactly is the right time to listen to something like this, but if you happen to be writing a blog post about music with headphones on, that seemed to fit nicely.
---
Lake Street Dive - Free Yourself Up
This band has been around for a little more than a decade, but this is the first I've listened to them. I guess I'd say they're mostly a pop outfit filtered through lenses of jazz and country and rock and soul with an appetite for frequent vocal harmonies. I like what I hear, so far.
---
Trampled By Turtles - Life Is Good on the Open Road
Also around for more than a decade, I've never heard of these guys until listening to a few cuts from this album. They're apparently known for their frenzied rock 'n' roll approach to bluegrass. I'll happily join that party.
---
Cut Worms - Hollow Ground
Um. Here's another mind-blowingly faithful vintage-inspired act. This one is a debut album by singer/songwriter Max Clarke taking his cue from the rock 'n' roll of the late-'50s, early-'60s. The sound is impressive and good. How's that for an eloquent review?
---
Parker Millsap - Other Arrangements
This young roots-rocker from Oklahoma leans toward pop songwriting on Other Arrangements. Really, I think that just means he wrote an album of tight, concise, and catchy tunes. I'm fine with that.
---
Damien Jurado - The Horizon Just Laughed
Damien Jurado is a highly respected Seattle singer/songwriter whose music has evolved throughout the past two decades, ranging from rootsy folk to more psychedelic textures. He seemingly follows his heart and delivers his audience exactly what he wishes, and if you're willing to go along for the ride, it's usually worth it.
---
Jessica Risker - I See You Among the Stars
Speaking of psychedelic folk music, here's a new folk singer with a dreamy, ethereal sound for a rainy, melancholy day. In case you encounter one of those.