A few highlights from the week: A New Zealander, a Columbian-American, a Muslim American, some San Franciscans, some jazz, a few tributes, why I started dancing my butt off, and more...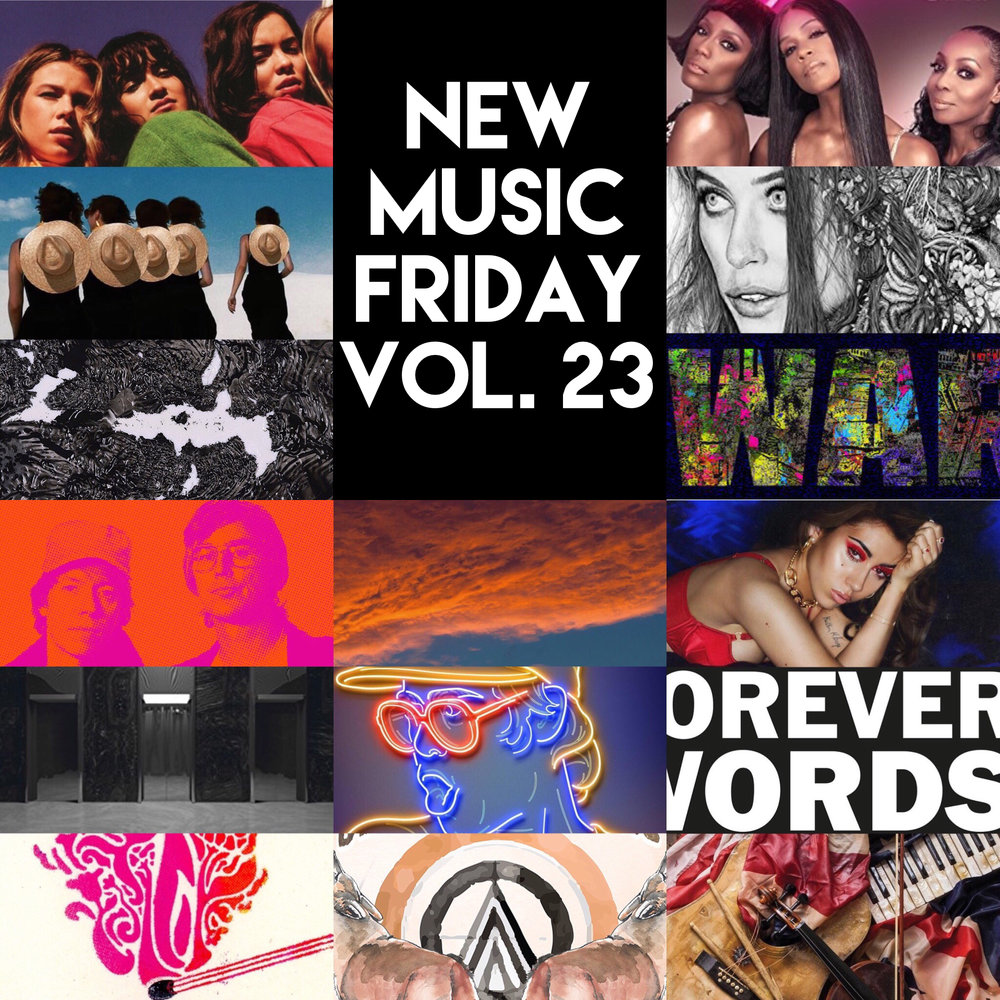 Rafiq Bhatia - Breaking English
This is an instrumental album from a New York composer and guitariest that manages to blur acoustic and electric instruments with a slight jazz influence and touches of modern classical composition. Fat bass, punchy drums, soulful guitar, weeping strings, and occasional backing vocals, but no lead vocals, this album has weight and heft to it. The press release says:
Bhatia is the first-generation American son of Muslim immigrant parents who trace their ancestry to India by way of East Africa. Early influences such as Jimi Hendrix, John Coltrane, and Madlib—as well as mentors and collaborators including Vijay Iyer and Billy Hart—prompted him to see music as a way to actively shape and represent his own identity, not limited by anyone else's prescribed perspective.
---
The Aces - When My Heart Felt Volcanic
All-female pop band a little poppier than Haim and a little less reliant on 80s throwback.
---
Wye Oak - The Louder I Call, The Faster It Runs
I've been slow to the Wye Oak party. The band's first record was released 10 years ago, but I haven't given their music a serious listen until now. This is smart, swirling indie rock in all its rhythmic, atmospheric glory.
---
Eels - The Deconstruction
Eels have been around since the mid'90s. I honestly don't know a lot about their output, but his record is wonderfully crisp, cinematic alt-rock.
---
Sloan - 12
Yet another group that's been around since the mid-'90s that I know shamefully nothing about. Predictably, this is their 12th studio album, and it sounds very Beatles-influenced power-pop music with harmony vocals all over their choruses and occasional handclaps. I like those things.
---
Clarice Jensen - For This From That Will Be Filled
Ambient, contemporary classical compositions for and by cellist Jensen. Here's an interesting article about the album from NPR's music team.
---
Joe Lovano & Dave Douglas - Scandal
If you follow modern jazz artists at all, you probably know who Joe Lovano and Dave Douglas are. This is a joint project they call Sound Prints. It's a quintet of players inspired by Wayne Shorter and their interpretation of his legacy and philosophy toward playing. This second album of theirs features 9 new compositions and new arrangements of two classic Wayne Shorter tunes. They claim their aim is to push boundaries, but the result is still pretty great straight-ahead modern jazz.
---
Blackberry Smoke - Find a Light
Rip-Roarin' Southern rock in all the best ways.
I was already grooving from the outset of the track below. I was not ready for what happened to me at 2:15. I was basically dancing like a fool around the house. I couldn't help it. Do yourself a favor and listen to this immediately.
---
Various Artists - Revamp
Various Artists - Restoration
Elton John is from a different generation of pop stars than the ones covering his songs on these two tributes. What's most striking to me is Elton got his start at a time when melody was more of a focus in pop music and lyric content was often more story based, so it's fascinating to me to hear modern pop musicians singing long, deliberate melodies in a way that they don't often do.
Anyway, there are two Elton John tribute albums this week. Revamp has pop artists taking a stab at his work, and Restoration is a lineup of country music stars doing the same.
---
Various Artists - Forever Words
Forever Words is a collection of well-known musicians setting unused Johnny Cash texts to music. It's seems like mainly a project for alt-country and bluegrass fans, but there are nods to classic rock and jazz fans, too. Oh, and I suppose Johnny Cash fans might find something interesting about it, as well. <wink>
---
Kali Uchis - Isolation
Kali Uchis is a young Columbian-American artist blending modern R&B/pop music with classic soul inspiration. 
---
Gin Wigmore - Ivory
Man, I'm sucker for a lot of things, but horns and organ are high on that list. I'm also very intrigued by people destroying their voices in interesting ways. I wouldn't really want to do it, but I don't have to.
I've previously written about Asaf Avidan, a man from Israel with a wildly unique voice. Gin Wigmore is a woman from New Zealand whose voice strongly reminds me of Avidan's.
Wigmore is a major star in New Zealand, but this is a needle drop discovery for me. I had never heard her before pressing play on a few cuts of this new one. It's gritty, lively, rocking, powerful pop music. I love this. The songs, the production, her wild voice. I will definitely be visiting her three previous albums, the first of which was recorded with Ryan Adams' former band, The Cardinals. That seems very crazy to me. I will listen. 
---
En Vogue - Electric Café
When I started this project exploring new music, I didn't anticipate coming across new music from artists I had completely forgotten about. It's fun to see who's updating their sounds and how. Of course, En Vogue was huge in the '90s, and there are occasional echoes of that classic En Vogue sound. Otherwise, this is pretty straightforward, no-frills R&B. 
---
The Family Crest - The War: Act I
The Family Crest is a band/collective here in the Bay Area. As I understand it, many of the members studied together at the San Francisco Conservatory of Music, and they often expand their collective to record with as many people as possible. I serve on the SF Chapter Recording Academy Board with one of the group's permanent members, and I really admire this band.
Much of what they do is very dramatic orchestral pop music with huge arrangements. I loved their debut album, and I can't wait to listen to more.