Janelle Monáe releases her newest album this Friday, and I'm so excited about it, I felt compelled to post a primer, so that it doesn't eclipse my entire NMF post this week. Though, I hope it will deserve to.
The fact is, I'm not going to listen to a single note of any of the singles that have been pre-released because I want to sit and experience the album in its entirety. My understanding is that the album has a complete story arc and will be accompanied by a simultaneous release of accompanying videos for each song. So, on Friday, I'm going to sit my butt down, and watch and listen. Until then, if you're wondering who Janelle Monáe is, I will do my best to relay what I know.
Sometimes an artist just speaks to you, and Monáe is one of my indisputably, all-time favorite artists of the past decade. Her music has, at various times, encompassed the sounds of (in no particular order) Stevie Wonder, David Bowie, Prince, Queen, Outkast, the B52s, James Brown, Jimi Hendrix, the Jackson 5, even some Laurel Canyon folk, and at least one tender use of Debussy. It's altogether classic soul, modern R&B, smart pop music, and pure modern funk laced together with a classical grandeur. Her voice is clear, beautiful, and powerful. She even has rap skills and isn't afraid to use them. Monáe manages to create a virtuosic combination of pop music styles, embodying her influences, flipping them on their heads, and owning them like a truly creative master chef designing an entirely new cuisine. There's an awful lot of genre-melding going on these days, but Monáe was refining the experiment before others even considered it a possibility.
Thus far, Monáe's records have been high-concept art, partially drawing sci-fi inspiration from Fritz Lang's ground-breaking 1927 film Metropolis. For her first few projects, Monáe created a character named Cindi Mayweather, an android from the year 2719. She uses it as a conceit to craft story and futuristic pop music, but for her, the Mayweather character is also a symbol. In imagining a world filled with androids, Monáe has said that she felt like there would need to be a mediator in order for people and androids to be able to live together. Mayweather is that "Archandroid" who mediates, as she puts it, "between the haves and the have-nots; between the oppressed and the oppressor." She quotes a line from Lang's Metropolis, saying, "the mediator between the mind and the hands is the heart." Mayweather, she says, is that heart.
It's obvious that her grapple for the coexistence between humans and androids has real-world parallels. And this is where Monáe picks up the long tradition of social messaging of artists like Stevie. Through these projects she's highlighting the plight of marginalized communities and signaling for the empowerment of women and strengthening of the oppressed.
What Monáe has been doing is not new but remains necessary. The message has framed her work, so far, but these higher concepts of social struggle and acceptance are also peppered in with songs about the range of human emotional experiences. So, you still get to have your average pop tune subjects of love and loss and having a good time, packaged in a glorious, futuristic musical soundscape of extremely thoughtful but fun art. That's Monáe embodying her role as mediator. Offering us the spoonful of sugar, if you will. Her art is so entertaining, you don't need to pay attention to her deeper messages. But you should.
---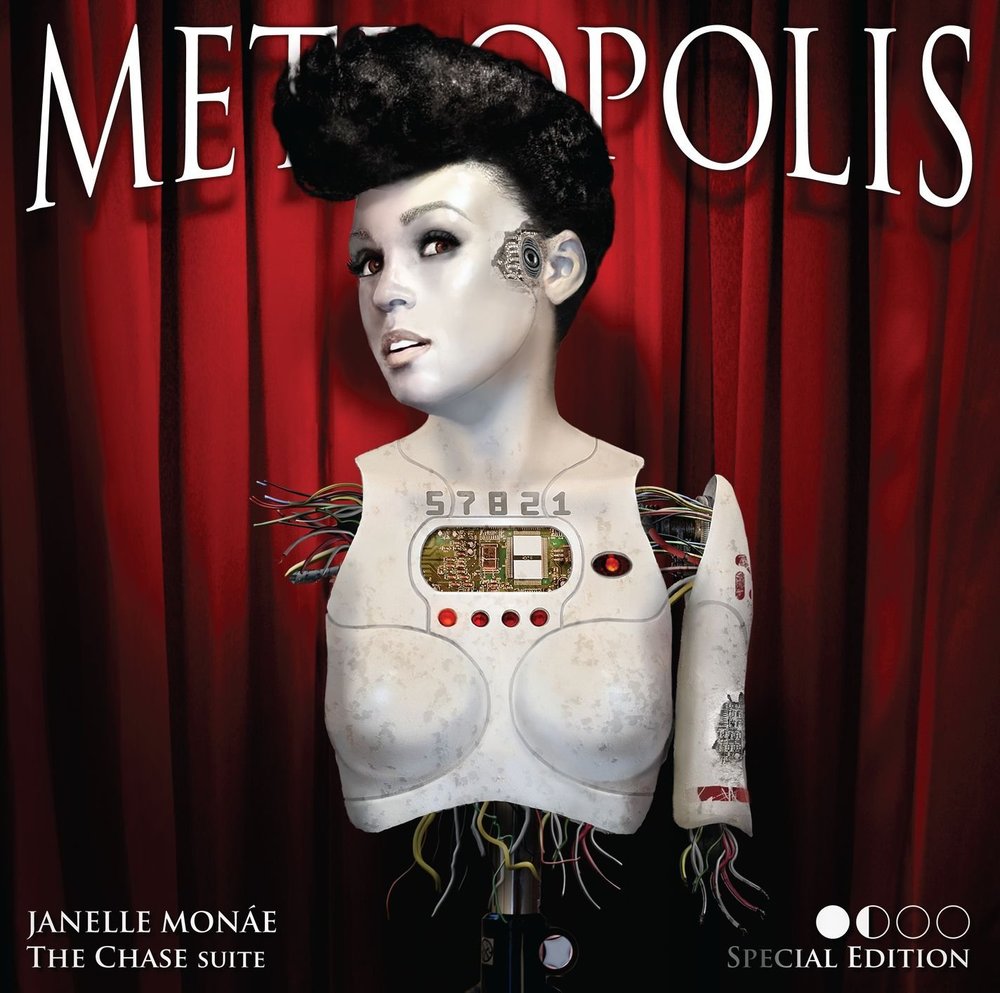 ---
---