...In which country meets soul, Bach meets jazz, jazz meets Common, Byrne meets optimism, and I attempt to analogize classical music to hip-hop beats. What?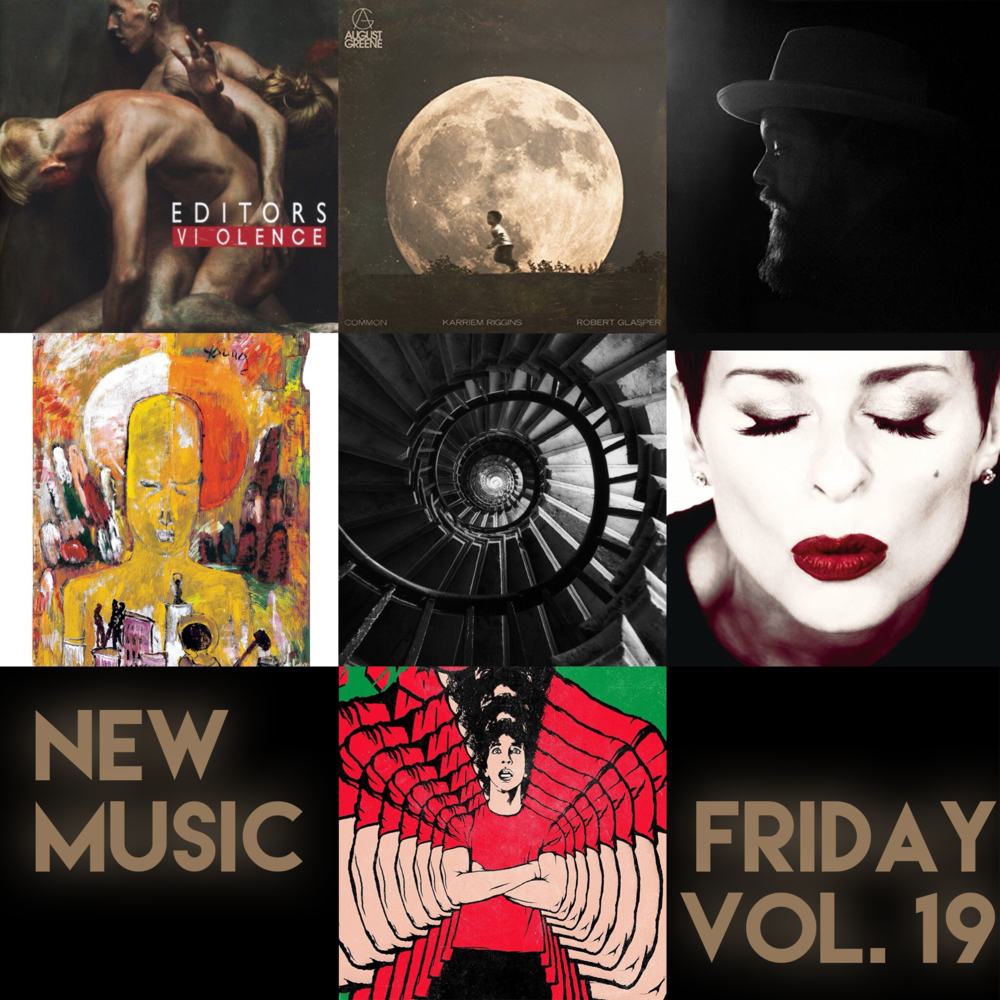 David Byrne - American Utopia
Is David Byrne unofficial king of avant-garde artpop? Probably. And whether you're familiar with the former Talking Heads front man or not, you probably like him or you don't. And this record is unlikely to change your mind. 
Byrne has collaborated with many people over the years, but this is his first solo project  in 14 years. For the past two years, he has been presenting a lecture he calls Reasons to be Happy. This record seems like it fits within a pattern of searching for positivity. That can't be all bad.
---
Editors - Violence
Just the other day, you were wondering, "can't I just get some more big, bombastic, modern arena rock?" I know you were.
Here I am catching up on another band that's been around for a while. They released their debut in 2005, have gone through some band member changes, and have let their sound evolve into something bigger than when they began. They've been previously compared to other bands, but as far as I can tell, if you like Muse, you'll like this record.
---
Brad Mehldau - After Bach
Students of Bach will know that there was a great deal of improvisation in the composer's playing and writing. Fans of Brad Mehldau will know that he has always found jazz and improvisation in music other than jazz. He's also been known to play a bit of Bach occasionally.
On this record, Mehldau plays four Bach preludes and one fugue and comments on each of them with a piece of his own inspired by the Bach compositions. I've always thought Bach had the spirit of a jazz musician in there somewhere. I think he'd appreciate this approach.
---
Nathaniel Rateliff & The Night Sweats - Tearing at the Seams
Is this dude country or R&B? How do you accomplish both? I guess they share a common ancestor in the blues, and while his sound is not solidly any of those things, Rateliff straddles those crossroads in a way that brings to mind Van Morrison's embrace of a similar path.
I hadn't heard any of Rateliff's music until exploring this week's releases. I'm sold. The track I'm linking to also includes a visit from the duo I mentioned in last week's post, Lucius.
---
August Greene - August Greene
I'm going to use today's hip-hop selection to illustrate a classical music concept. The late J Dilla is a now-legendary hip-hop producer who fought against the robotic ticktock of drum machines that had been used in hip-hop for years. He wanted to program a small amount of human variation in his drum tracks, and he ended up creating these dirty stutter beats in his music that have inspired a generation of drummers.
It's actually a wild thing. A man programmed a machine to sound more human but ended up creating a feel that no human drummer had ever played on his/her own. Then, drummers loved that groove so much, they wanted to recreate it. What makes it so unique is that even though he was programming the sound of "human error" into the drum machine, it was still able to perfectly keep the time around those imperfections. To master that ability to play those micro offbeats while keeping a strict, steady time takes a solid technique and true artistry.
This essentially amounts to the Classical music concept of rubato on something more of a micro level. In classical music, artists will often steal time from one bar or one beat and give it back in another. You stretch one phrase for the purposes of expression and then flow quickly through another. These drummers are doing a similar thing, but within beats, perhaps delaying an inner 16th or 32nd pulse while keeping the overall groove steady and locked. I'm in awe.
Now to this record...
Perhaps I'm a bit of a contradiction. I love me some pop music with electronic and synthesized elements, but I also love some hip-hop with real instrumentalists. August Greene is a "super group" of sorts. Well known rap artist Common has teamed up with jazz/hip-hop fusion pianist Robert Glasper and jazz drummer/hip-hop producer Karriem Riggins. This is basically Common rapping over minimalist neo-jazz backdrops. I like what they've created together.
The reason I mention all that weird drummer stuff is that Karriem Riggins worked with J Dilla and was heavily influenced by him. I'm captivated and fascinated by his playing on this album in particular. All that said, the beat in the track below is a little more straightforward. And it features Brandy...
---
Albert Hammond, Jr. - Francis Trouble
I'm probably the only guy who worked in an independent record store in 2001 who didn't really care about the Strokes, and indie band who made their debut that year to wide acclaim. Oh well, I was probably too busy shamelessly listening to the Moulin Rouge soundtrack. Judge me any way you desire. I still like that movie, and I'm not apologizing for it.
Anyway.
Hammond is a guitarist with The Strokes, but broke out and began additionally doing solo records in 2006. I can't really say how this compares to his earlier efforts because I haven't been following him very closely, but if you're into indie rock, this ain't so bad.
---
Lisa Stansfield - Deeper
I've been around the world, and I...I...I...
Now that I have that out of the way...
If you want a reminder of what the late '80s - early '90s sounded like, there are a number of collections you can turn to. Or you can listen to this brand new album from Lisa Stansfield. To be fair, I don't know what the entire thing sounds like, but the couple of tracks I have heard are impressively faithful to the period of time in which Stansfield made her debut.
Which, depending on your perspective...
Ah, well. Here's a video.